Welcome to my turn on the #PerfectPrey blog tour, which celebrates the second instalment of the wonderful D. I. Callanach series. I have only just discovered this series and I think it is AMAZING. Worth checking out if you like a touch of horror with your crime. I am thrilled to welcome Helen Fields to the blog today, to talk about television programmes that inspire her.
Small Screen Recommendations To Inspire You To Write
When I'm deep in the throws of mid-book writing, I find it hard to read similar genres to my own, and sometimes I'm just too tired of seeing the written word to want to pick up a book. At times like those I turn to the small screen, late at night, and devour box sets. Far from it being wasted time though, I draw much writing inspiration from these series. Some of it works at an emotional level, some of it makes me think about sharpening my own dialogue, and most often the beauty of the imagery is utterly inspiring. Here are a few of my top recommends if you're writing in the dark, edgy or psychological spectrum, with tips on what to look out for.
Top of the Lake is a New Zealand set crime drama starring Elisabeth Moss as Detective Robin Griffin. It is notable for its quiet intensity and the understated nature of the dialogue, even at the points of highest drama. It feels slow burn at times, but you constantly want to know the secret of the young pregnant girl who tries to commit suicide early on. This is an unusual offering, given that most of the acclaimed crime dramas are either American or Scandi-Noir these days. The beautiful scenery provides a stunning backdrop to the action, and some iconic character roles leave the viewers' blood running cold. Watch out for the space the writers leave for you to draw your own assumptions about what's going on. There is little plot hand-holding, no over-writing and no overkill. Top of the Lake may be the ultimate high drama, softly written crime series I've seen.
The Wire is an old series now but it bears watching again even if you saw it the first time. Starring Dominic West as an Irish-American cop, flawed but brave, classic anti-hero character, the award-winning writing is sharp and brutal. If you like your crime on the dark side, this will be for you. Exploring drug wars and territorial violence, The Wire is the ultimate real-feel cop drama. Watch out for the older characters, who give depth to the series. These are handled particularly sensitively, and it makes the story feel like a constant transition between shifting generations.
Carnivale, conceived and largely written by Daniel Knauf, is set in the American dust bowl just after World War II. What begins as a tale of a travelling circus becomes an epic struggle of good against evil, fomulated in the most unassuming way. The nature of the subject matter opens the potential for heavily cliched characters, yet the writers have rendered them 3D and gloriously painted. There is an unwilling hero, an icon of good who grows dark before the viewers' eyes, and a supporting cast who are entirely compelling. In many ways the setting, both in time period and geographical place, were an absolute gift, lending themselves to evocative picture creation. It is a lesson, though, in taking risks with your setting and allowing the sense of time and place to seep into the story. In this case, it allows the cinematography to carry the plot rather than vice versa. In dialogue terms, this is stunning in its sparsity, having long sections with no dialogue at all. There are few long speeches except for those delivered sermon-like by Clancy Brown.
Better Call Saul is the off-shoot series from Breaking Bad, preceding the latter and following the fate of would-be, maybe lawyer Saul Goodman. It's modern day America but not as most of us know it, taking on the dry heat of Albuquerque and making us all thoroughly uncomfortable as we watch. What's so great about it? You love people you shouldn't, and you want them to win at any cost. It's brilliant shifting-sand writing, where you feel more or less for each character with each decision they make. The key relationship between Saul and his girlfriend is also completely unwritten. You're never quite sure where they stand, and I loved that about it. Giving yourself the freedom not to define every last detail in your writing is empowering, as long as it doesn't lead to confusion. This is possibly the cleverest quasi-comedic tragedy/crime writing currently being produced.
Deadwood is another brave, bold period drama. The action happens in the town of the same name, in the Wild West during the American gold rush. I don't think I have ever read or seen as spectacular and despicable villains in a television series. The language is so well research and constructed that it takes a couple of episodes to really understand it all, but once you're attuned to the rhythm and dialect, it adds to the setting perfectly. Of course, you can't get away with writing dialect so boldly in novels without risking alienating your readers, but it's another example of using an unusual and unique setting to bring atmosphere to writing. Watch out for this. The original antagonist, as terrible and hateful as he is, is turned into a protagonist by virtue of the introduction of a newer, badder, even more horrible villain. It is outstandingly intelligent story design.
So there we are, a few hours of your evenings accounted for. You won't regret it. Every one of these series is unique and inventive. Soak up the atmosphere and let your own writing be just as free.
Helen Fields
July 2017
Perfect Prey – what is it all about?
Welcome to Edinburgh. Murder capital of Europe.
In the middle of a rock festival, a charity worker is sliced across the stomach. He dies minutes later. In a crowd of thousands, no one saw his attacker.
The following week, the body of a primary school teacher is found in a dumpster in an Edinburgh alley, strangled with her own woollen scarf.
D.I. Ava Turner and D.I. Luc Callanach have no leads and no motive – until around the city, graffitied on buildings, words appear describing each victim.
It's only when they realise the words are being written before rather than after the murders, that they understand the killer is announcing his next victim…and the more innocent the better.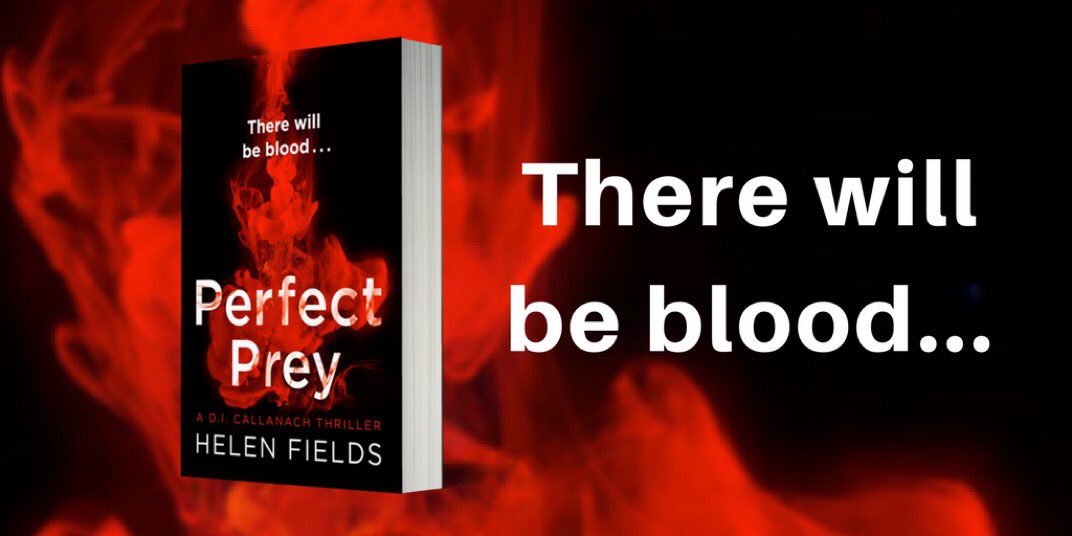 Just in case you missed my review of Perfect Prey….
After reading Perfect Remains and falling in love with D. I. Luc Callanach, I was keen to get stuck into Perfect Prey. Perfect Prey is the second in the  Scottish crime series by Helen Fields. Reading Fields reminds me so much of Chris Carter and Karin Slaughter. There is this wonderful vein of gorgeous explicit darkness running through it, combined with such humanity. Seriously this is the best new series I have come across in ages! I urge you all to discover what I mean!
The first book set the scene and introduced us to the duo French D. I. Luc Callanach and rather posh D. I. Ava Turner. Callanagh and Turner find a sudden dark crime wave has hit Edinburgh. A man is slaughtered in cold blood at a music festival. A woman is found crushed beneath furniture, in what looks like a deliberate act of suffocation. Another body is found in a skip. Callanagh and Turner are under increasing pressure by their boss to get results yesterday. There seems to be little in the way of real clues. The victims seem to be good upstanding citizens, with no enemies. The murder count is rising. There is a growing climate of fear in the city. Who will be next victim to die? Will Callanagh and Turner be able to get their friendship back on an even keel and work out who is responsible?
Although this is a very different case for Callanagh and Turner, the key elements that I adored in Perfect Remains were still there. The lovely French man Callanagh with his psychological wounds and dedication to duty. Turner and her addiction to old movies and in depth crime chat is there. We see the tiny hint of a romantic relationship brewing between Callanagh and Turner, in a sort of Mulder and Scully way. There is sexual tension there, in spite of Turner's engagement to her old flame. The least said about that character the better. We have realistic and brutal crimes, designed to shock and disturb. I do appreciate that. Not many writers can make me shudder! There are enough twists to satisfy anyone, with a pace that will have you holding your breath. And Callanagh gets a couple of male friends to bond with in Ben and Lance. All in all everything that I love about crime is here!
In Perfect Remains, they were up against a psychopath. In Perfect Prey, the city of Edinburgh has turned into a blood bath. I wonder what Helen Fields will come up with next. I cannot wait! Recommended for all fans of brilliant crime!
---
Helen Fields is on Twitter https://twitter.com/Helen_Fields
Buy your own copy of Perfect Prey on Amazon and fall in love with the series
The rest of the #PerfectPrey blog tour >>>>>